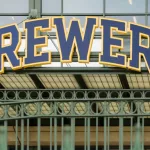 Major League Baseball announced thatMilwaukee Brewers pitcher J.C. Mejia was issued a 162-game suspension without pay or a second failed test for stanozolol, an illegal performance-enhancing substance.
The 27-year-old Dominican right-hander, who appeared in nine games this year for the Brewers, first tested positive for the banned anabolic steroid in May of last year and received an 80-game ban from MLB. Mejia's second positive test for the performance-enhancing substance led MLB to issue what equals a full season ban to the Brewers reliever immediately as a repeat offender under its Joint Drug Prevention and Treatment Program with the players union.
Brewers general manager Matt Arnold said in a statement: "The Milwaukee Brewers fully support MLB's Joint Drug Prevention and Treatment Program and share in the goal of eliminating performance-enhancing substances from our game."
Mejia, who made his MLB debut in 2021 with Cleveland, was re-signed by the Brewers to a minor-league deal in the offseason. He was 1-0 this season with a 5.56 earned-run average, 13 strikeouts and three walks over 11 1/3 innings. He was on the Brewers' 60-day injured list with shoulder inflammation at the time of his suspension.
Editorial credit: University of College / Shutterstock.com