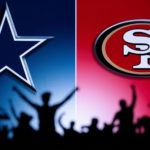 The San Francisco 49ers are headed to the NFC Championship Game for the third time in four seasons. Christian McCaffrey scored the go-ahead 2-yard touchdown run in the fourth quarter, bringing the 49ers a 19-12 win against the Dallas Cowboys on Sunday at Levi's Stadium.
The 49ers rookie QB Brock Purdy said: "Man, we're just excited that we won. Everyone did their part. It's playoff football, it's never easy, but we're moving on."  Dallas QB Dak Prescott threw two interceptions and Brett Maher missed his fifth extra point of the postseason when his attempt was blocked. Said Prescott: "Just disappointment … Defense gave us an opportunity to win this game. They played hard against a really, really good offense, a really good team. For us to only put up the points that we did, that's unacceptable. It starts with me. I've got to be better. There's no other way to sugarcoat it."
The No. 2 seed 49ers will play next Sunday against the top-seeded Philadelphia Eagles, who advanced after their 38-7 win over the New York Giants on Saturday.
Editorial credit: kovop / Shutterstock.com