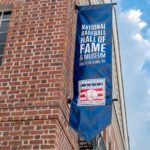 The Baseball Writers' Association of America announced the Baseball Hall of Fame's Class of 2022 on Tuesday, with former Boston Red Sox slugger David Ortiz becoming the only player eligible to gain induction into the HOF this year. Ortiz was named on 307 of the 394 ballots (77.9%). During his 20-year career, Ortiz collected 541 home runs, 632 doubles, 1,768 RBIs, a .931 OPS, 10 All-Star selections, seven Silver Slugger Awards and three World Series titles.
Other eligible players including Barry Bonds, Roger Clemens, Sammy Sosa and Curt Shilling were in their 10th and final year of eligibility in the annual balloting. Tuesday's announcement confirmed that these four names left on the ballot will not make the Hall of Fame via traditional voting. The balloting showed Barry Bonds (66 percent), Roger Clemens (65.2 percent), Curt Schilling (58.6 percent) and Sammy Sosa (18.5 percent), which fall under the 75% threshold. The four can, however, still be inducted into the Hall of Fame via the committee route. In the case of Sosa, Clemens and Bonds, long-standing allegations of steroid use may prevent that from ever taking place. And in the case of Shilling, a series of post-retirement controversies will most likely prevent his HOF induction via committee.
Ortiz will join the six men voted in by two different Era Committees back in December. The Golden Days and Early Baseball Era committees elected Jim Kaat and Tony Oliva, and the late Bud Fowler, Gil Hodges, Minnie Miñoso and Buck O'Neil. They will all be honored at the July 24, 2022, induction ceremony in Cooperstown, N.Y.
Editorial credit: Ken Wolter / Shutterstock.com