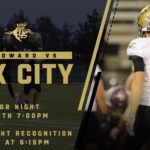 Week nine of high football across the tri-state is upon us. For those in Kansas that means playoffs have arrived. For those in Oklahoma and Texas key district matchups could decide district champions or help solidify playoff spots. For others it means a few more weeks to leave their marks on the season. Woodward will be hosting Elk City for senior night this week in the final home game of the season. The Elks bring a tough challenge as they sit atop of the district and bring a hard nose brand of football. Let's look at what the Elks are bringing into Boomer Stadium.
Record & Rank: 7-1 (4-0), ranked 2nd by the AP and 5th by the Oklahoman. Last season Elk City went 11-2 and made it all the way to the semi-finals where they lost to eventual champion Clinton 17-7.
Meet The Coach: Zac Maynard is in his first season leading the Elks. Maynard was previously at Watonga for four season where he compiled a 19-23 record, appearing in the playoffs in two of those four seasons. Maynard was Elk City's defensive coordinator last season and took over after Dave Meadows retired. Overall Maynard is 26-24 in his career as a head coach.
Team Preview (Offense) : Elk City brings a triple option, wing offense in to Boomer Stadium on Friday. Up front the offensive has five players that pride themselves in winning the battle in the trenches on each and every snap. The line has good size and is led by senior right tackle Logan Trevino and senior right guard Aden Long. Under center for the Elks is senior quarterback Austin Jones. Jones is a great decision maker within the option offense and a good athlete when he decides to call his own number. On the outside a mix of talented recievers in seniors Cooper Patton, Kaden Holder, Cale Pool. Senior fullback Levy Owens is the standout amongst the playmakers in the offense. Standing at 6'0″, 235lbs, Owens is a load to bring down when he gets rolling. Overall this offense is nothing flashy but nonetheless very effective.
Team Preview (Defense):  For the Elk City defense they bring a three down lineman front led by an athletic, aggressive, and very impressive defensive end in Trace Ford. The Elks bring three talented senior linebackers in Nick Medina, Tyler Moyer, and Sammy Castro. In the secondary, Cooper Patton, Cale Poole, and Kaden Holder bring big play ability and athleticism. Overall the Elk City defense has been a focal point of their success this season holding district opponents to 14 or less points in 3 of their 4 contest.
Keys To The Game: Defense and downhill running will be the theme of the game tonight. Woodward will go as the Ace Long and the run game goes. Over the last two games the Boomers have averaged nearly 230 yards rushing per game. Long himself has compiled 381 yards and 6 touchdowns in that span. Coach Luetjen noted for the Boomer defense that each player will have to do their job on each and every down.
Don't forget to join us on Z92 for the radio broadcast with pre-game coverage at 6:30. Clint Shelton, Dakota Waggoner, and myself will be on the call for all the action. You can also find the video stream of the game on BoomerTV by going to boomertv.net or going to z92online.com and finding the link to the channel there.