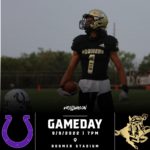 Week 2 of high school football brings another familiar opponent to Woodward in the Bethany Bronchos. After a tough road trip to Guthrie, the Boomers are looking to bounce back in a similar way they did last season when they fell 41-6 to Clinton but were able to take a 17-12 win over this very Bethany squad. Lets take a deep dive into what to expect from the Bronchos as they roll into Boomer Stadium.
Record & Rank: 2-0, #8 in 4A according the Oklahoman's rankings. Last season Bethany finished with an 8-3 record and dropped a close first round playoff matchup against Blanchard 24-21.
Meet The Coach: Jon Arthur is entering his 6th season as Bronchos head coach and has compiled a very stout 48-15 record since 2017. Arthur has led Bethany to the playoffs in every season he has been at helm and in 2018 Bethany lost a nail biter to Tuttle 35-28 in the 4A OSSAA championship game. As a whole Bethany has missed the playoffs just twice since 2010 and are on a six season streak of consecutive appearances.
Team Preview (Offense) : This offense is stacked with senior leadership and great athleticism at their skill positions. That leadership and scary athleticism begins at quarterback with senior Taylor Heim. Standing at 6'5″ 190LBS, Heim brings a strong arm as well as the ever constant threat to tuck the ball and take off for easy yards if a defense doesn't respect his mobility outside of the pocket. Coach Arthur looks to get Heim involved in multiple ways including splitting him out to reciever at times when the team looks to go more pass heavy by sending in Cale Wetwiska. Wetwiska stands at 6'1″ 180LBS and is Bethany's more traditional passer who they look to when needing to hit precision passes on timing routes. At running back the Gilliland brothers of Jaden and Jack bring downhill power in tough to tackle frames of 5'10" 215LBS and 5'9″ 210LBS respectively. On the outside senior tight end/slot reciever Woods Harrell uses his 6'1″ 195LBS frame to get open underneath in a soft spot of the defense to free up deep threats in Coleton Calderon and Rylun Sanders. The offense line is led by senior left guard Parker Daniels who brings physicality and good size (5'11" 245LBS) to a line with promising underclassmen. Overall this is a run first offense that has playmakers all over the field that are dangerous with the ball in their hands.
Team Preview (Defense): Similar to the offense the Bethany defense is loaded with athleticism and senior leaders. Taylor Heim will look out for receivers over the top at the safety position while Cale Wetwiska and sophomore Wyatt Geissler (5'8″ 150LBS) rotate at the other safety spot. At the corners Coleton Calderon and Rylun Sanders will be trusted to be on islands at times which will allow Bethany to be aggressive with their front seven. Manning the middle linebacker spots are Jack and Jaden Gilliland while Woods Harrell and Jordan Strotter take the outside edge spots and look to wreck havoc in the backfield. On the defensive line senior Baylor Tibbets (6'1″ 195LBS) brings a wide array of moves that allows him to win one on one matchups or to slip through double teams. Overall Bethany will look to play fast and aggressive while daring teams to beat them over the top.
With that in depth look at Bethany let's take a look at last week's game for Boomers and review the gameplan going into this week's game:
Game Summary from Guthrie:  Defense prevailed in the first quarter as Guthrie forced multiple three and outs for the Boomer offense and sophomore corner Mason Boring made a big interception when the Boomer defense was backed up to their own goal line. Guthrie's Isaiah Hammons broke the scoreless tie with a 2 yard plunge with five minutes to go in the first quarter. From there Guthrie would use a 28-0 run in the final 8:30 of the first half to take a commanding 35-0 advantage. Hayden Calvert and the Guthrie offense converted on key 3rd and 4th downs within that stretch. The third quarter saw two more rushing touchdowns from the Bluejays to push the score to 50-0 where it would stay.
Game Takeaways: In speaking with coach Luetjen and senior lineman Ethan Matt and Hunter Harrison on this week's Boomer coach's show, they all noted the Guthrie pressure was too much in the first half. Guthrie routinely loaded the box with 7 players causing Sam Cheap to have to routinely escape pressure almost from the snap of the ball. Coach Luetjen thought Cheap did an excellent job of not taking sacks and limiting the damage of the Guthrie blitz. Matt and Harrison both believe the offensive line has cleaned up some of those issues in practice this week. Defensively the Boomers believe Hayden Calvert gave a good blueprint of how to try and deal with Taylor Heim this week along with a Bethany run game that will look to get down hill quickly.
Keys To The Game: On the Offensive side of the of the ball the Boomers know the offensive line needs to establish their will early and often which will allow freshman Ace Long some running room when getting the ball and allow for Sam Cheap to get set for a proper throw when looking to pass. Defensively, Woodward will need to contain Taylor Heim when he gets outside of the pocket while respecting Bethany's big play ability which is something they did extremely well in last season's 17-12 win.
Tune in for our live radio broadcast with pre-game coverage beginning at 6:30 followed by kickoff at 7. You can also watch the game on BoomerTV through their youtube channel. Just search "BoomerTV".