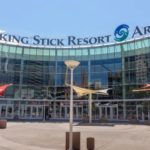 The Phoenix Suns defeated the Denver Nuggets 129-124 in Game 4 of the Western Conference semifinals Sunday to even the series at 2-2.
The fourth-seeded Suns' Kevin Durant and Devin Booker both scored for a team-high 36 points each, while Landry Shamet score 14 of his 19 points in the fourth quarter. Booker shot 14-for-18 with 12 assists while Durant added 11 rebounds and six assists to help Phoenix win their second straight game.
Two-time MVP Nikola Jokić scored a playoff career-high 53 points, 11 assists and four rebounds for the Nuggets. He received a technical foul for making contact with Phoenix Suns owner Mat Ishbia during the second quarter. After the ball went out of bounds in the front row and ended up in the hands of Ishbia, Jokić tried to get the ball back; after it came loose, he pushed Ishbia with the outside of his forearm, sending Ishbia back into his seat.
Game 5 between the Suns and Nuggets will take place on Tuesday, May 9th at 10:00 pm at Denver.
Editorial credit: BCFC / Shutterstock.com