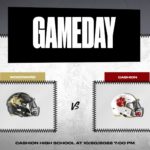 Week 8 of the high school football season sees key district matchups across the board as well as a mix of Thursday and Friday games. While this will not be a district clash you can bet this week's road trip to Cashion will be an important one for Woodward as they look to get into the win column for the first time this season and build momentum as they head into the final weeks of the season. Let's take a look at what challenges the Wildcats will present:
Record & Rank: 3-4 (1-2), not ranked by the AP or the Oklahoman. Cashion is the current defending back to back state champions in class A with a combined record of 30-1 over those two seasons.
Meet The Coach: Lynn Shackleford has compiled a 184-36 record across his 17 seasons at Cashion and has yet to miss the playoffs in his tenure since taking the reigns of the program in 2006.
Team Preview (Offense) : While this offense may not be running at high gear as with years past, it is still a fundamentally sound and balanced attack. Junior quarterback Chance Acord continues to improve with each game and come into his own with a good arm. Senior Max Brown is always a threat to go for a big play and coach Shackleford constantly finds multiple creative ways to get Brown the ball in space. Up front the offensive line is led by senior tackles Preston Cotter and Jackson Vandruff. Both lineman are great athletes for their size. Overall this offense will keep you on your toes throughout the game with their balanced attack.
Team Preview (Defense):  The Wildcats defense relay on their athletes at linebacker and in the secondary to make big plays. Up front seniors Preston Cotter and Jackson Vandruff use their athleticism to beat double teams in a variety of ways. Senior Seth Gilbert has been consistent leader at inside linebacker for Cashion this season and can pick his spots well when attacking a gap on a blitz. The secondary is a strong unit within this defense highlighted by the play of junior safety Nathan Navabi and senior cornerback Max Brown. Both players have shown great footwork at the position and good instincts. Overall this defense uses their modified 3-4 look to confuse offenses and create chaos.
Keys To The Game: Woodward will need to handle the tough road environment early by establishing long drives like they put together against John Marshall. The offense strung together multiple 17 play drives that resulted in points. Ace Long in the wildcat formation proved extremely effective to the tune of 186 yards and 2 touchdowns while averaging 5 yards per carry. If Woodward can repeat that without giving up the big plays defensively that made them have to play catch up then the Boomers can control this game.
Don't forget to join us on Z92 for the radio broadcast with pre-game coverage at 6:30. Clint Shelton, Eric Scott, and myself will be on the call for all the action. You can also find the video stream of the game on BoomerTV by going to boomertv.net or going to z92online.com and finding the link to the channel there.