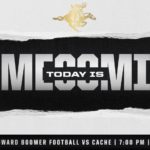 Week 4 of the high school football season sees district play get underway for teams across the state and the Boomers are no exception as they host the Cache Bulldogs for homecoming and their first taste of 4A district 1 action in a few years. Let's take a look at what the Bulldogs are bringing into Boomer Stadium:
Record & Rank: 1-2, not ranked by the AP or Oklahoman. Last season Cache went 2-8.
Meet The Coach: Faron Griffin is entering his sixth season as the Bulldogs head coach and has compiled a 29-27 record. Griffin is a Cache native and came back after spending time at Walters as the head coach.
Team Preview (Offense) : The Cache offense begins with their offensive line which is anchored by 6'6″ 305LBS senior left tackle Kenneth Wermy. Wermy has offers from the Universities of Central Arkansas and Central Missouri which he received after a big junior season going both ways for the Bulldogs. Leading the offense as the signal caller is junior quarterback Tyler Harbin. Although people may consider Harbin undersized at the position being listed at 5'10" 160LBS, he brings good athleticism and isn't afraid to step up in the pocket and take a shot downfield. On the outside reciever senior reciever Tyler Miles is the top big play threat and brings good size (6'2″ 180LBS), and speed. Miles will be moved around the field to try and create advantageous matchups. Junior running back Connor Muldowney brings toughness and has flashed big play ability. Muldowney can be tough to bring down standing at 6'0″ 190LBS. Overall Cache will look to run showing a triple option look disguised as a shotgun offense while taking the occasional big play shot.
Team Preview (Defense): Similar to the Bulldog offense, the defense begins in the trenches with Cache's huge three man front. Seniors Kenneth Wermy, Marshall Blane, and Joseph Rendina-Brown bring 955LBS of muscle between the three of them. Tyler Miles patrols the middle for Cache at the inside linebacker spot and can get downhill quick to plug a gap or range from sideline to sideline to cover underneath routes. In the secondary, defensive backs Nic Johnson and Tyler Harbin will be trusted to be on islands at times to allow for the front seven to be aggressive while safeties Cole Ashworth and Brayden Castro will patrol the deep parts of the field to take away deep threats from the opposing offense.
Game Summary vs Newcastle:   The first half was a tough, physical contest. Newcastle would draw first blood after a 10 play, 67 yard drive which was capped off by a 28 yard touchdown run by Racers running back Carson Bolser. Woodward would answer with a four minute, 9 play, 48 yard drive of their own which saw quarterback Sam Cheap punch it in from one yard out. The ensuing extra point by Ace Long was blocked and the score would stand at 7-6 in favor of Newcastle throughout the rest of the first half. Newcastle would take control of the game in the third quarter with their opening drive. Freshman running back TJ Bradford would bust loose for a 64 yard touchdown run to extend the lead. Newcastle would capitalize on their next two drives both going 9 plays and covering 55 and 67 yards respectively to push the lead to 22. In the fourth quarterback Jackson Bergt would find Trey Burchett on a 30 yard strike to make it a 34-6 ballgame. Woodward found a drive late in the quarter that was capped by a 45 yard touchdown pass from Sam Cheap to Taelen Laird to make the final score 34-12.
Game Takeaways: . Defensively Woodward put together their best half of the season matching Newcastle's physicality and size. Offensively chances were there all game long, but timely drops prevented Woodward from extending drives. Coach Luetjen was pleased with the accuracy displayed by Sam Cheap, but noted the Boomers needed to take advantage of those opportunities. In the end Newcastle freshman TJ Bradford prove to be the difference maker by racking up 195 yards and two touchdowns.
Keys To The Game: On this week's Boomer coach's show, coach Luetjen preached discipline from his defense when trying to deal with the run heavy Cache offense and to not get pulled into giving up the big play in the secondary. Offensively Woodward will have to make sure to take care of the ball and convert on the open looks to sustain drives.
Don't forget to join us on Z92 for the radio broadcast with pre-game coverage at 6:30. Dakota Waggoner, Eric Scott, and myself will be on the call for all the action. You can also find the video stream of the game on BoomerTV by going to boomertv.net or going to z92online.com and finding the link to the channel there.