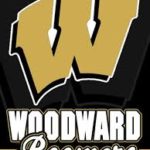 The Woodward Boomers have their new head girls' basketball coach and it's a good one!  Lloyd Vedder will take over the tradition-rich Boomer girls basketball program starting this fall. Coach Vedder comes from Forsan, TX where he coached the Lady Buffs from 2016-2020.  While at Forsan, he compiled a 90-41 record for the Lady Buffs. Lloyd is originally from Cleburne, TX and a graduate from Tarleton State University in Stephenville, TX where he received his BA in History/Physical Education.  Coach Vedder was hired straight out of college taking over the Buckholts boys basketball program right after school. Although he has coached boys' basketball as well on the hardwood, he switched to girls because he wanted to coach his daughter. After she graduated, he considered the move back to the boys but decided he was completely happy and satisfied coaching the girl's teams. Lloyd's overall basketball record (girls and boys) is an impressive 549-313 and his girls record is more impressive at 351-147.  Coach Vedder has 30 years of coaching experience but not just for girls' and boys' basketball, but also in cross country, baseball, football, tennis, golf, and softball.  And he has been successful in every sport and advanced to post-season play multiple times.  In addition to coaching, Lloyd has also been an Athletic Director in his past at Blum High School in Blum, TX.  So how good is this new coach you ask?  Let us follow his career:
1990-1993 Buckholts High School, Buckholts, TX
Head Boys Basketball Coach/Assistant Football Coach

Led Boys to their FIRST playoff appearance in school's history and 58 wins in 3 seasons
Helped 1992 football team to 9-2 record and playoff appearance
1993-1997 Blum High School, Blum, TX
AD/Head Football Coach/Head Boys Basketball Coach/Head Girls Basketball Coach/Head Baseball Coach/Head Cross Country & Track Coach/Head Tennis Coach/Assistant Golf Coach

Led Boys basketball team to 88 wins and 3 playoff appearances
Led Girls basketball team to 22 wins and playoff appearance
All other sports, led to playoff and regional appearances
1997-2003 Joshua High School, Joshua, TX
Head Boys Basketball Coach/Head Tennis Coach

Led Boys basketball team to 2nd and 3rd best record at that time since the mid-1980s
Tennis regional qualifier
2003-2004 Venus High School, Venus, TX
Head Girls Basketball Coach/Girl's Coordinator/Head Girls Cross Country/Head Tennis Coach
2004-2010 Valley Mills High School, Valley Mills, TX
Girls' Coordinator/Head Girls Basketball Coach/Head Coach Cross Country/Head Girls Track Coach/Assistant Softball Coach

Girls Basketball – built program into a Texas Top 20 ranked team during four of six years. Record of 126 wins in six years
Girls Basketball

2009-2010 Finished 22-9
2008-2009 Regional Semi-Finalists – advanced farther than any girls team in VM history. Finished 28-9.
Area Finalist 2007-2008
Area round finalist 2006-2007, first Top 10 ranking in over 10 years
Playoff berth 2004-2005

Other sports led to regional appearances
 2010-2013 Jacksboro High School, Jacksboro, TX
Girls Coordinator/Head Girls Basketball Coach/Head Softball Coach

Led 2013 girls' basketball team to First playoff appearance since 2004, only the second time since 1999. 20-win season (2010-2011).
Softball – reached playoffs for first time in school's history in 2013. Won school's first ever district ballgame and became school's leader in career victories
2013-2016 Smyer High School, Smyer, TX
Girls Coordinator/Head Girls Basketball Coach/Head Cross Country/Assistant Baseball (Pitching)

Basketball record of 68-31 – led to regional quarterfinals 2016, Area 2015, 3rd place 2014
Other sports led to district titles, regional and state appearances
2016-2020 Forsan High School, Forsan, TX
Head Girls Basketball Coach/Assistant Tennis Coach/Head Cross Country

Girls Basketball – Record (90-41)

Area Finalist (23-10) – 2017
Regional Quarterfinalist (25-7) – 2018
Regional Semi-Finalist (27-9) – 2019
Bi-District (16-16) – 2020
Reached career milestone of 500 wins in 2018
First time the girls reached the Regional Tournament since 1994

Cross Country made regionals each year while he was the coach
So. Impressive right?  Coach Vedder inherits a young team from Coach Didier's reign but a team with some talent.  Will be interesting to see what he can do with this team that finished 11-16 yet got to the Area Consolation Finals this season.  No doubt his track record proves that he is a man used to winning and accomplishing goals that have never been done before at his previous schools.  So, what is Coach Vedders' coaching style?  It just depends on the type of players he has on his team.  He has success with teams that are up-tempo and also with teams that only score in the low 40s.  Whatever style of basketball that Coach Vedder installs in this team he has learned three important keys to being successful:  Defense, rebounding and free throws.  Look for bigger concentration and emphasis on these three areas come that start of basketball season when you see the Boomers take the court again.  So, what principles will you see instilled in Coach Vedders' teams? 1st and foremost, "You can't pass the ball if you can't pass the class."  – Understand the importance of the classroom and its overall part in your teen years.  This should not be an issue since the Boomers were awarded the academic achievement award last season.  Still, you must do your job in the classroom as well as on the court. Two, he says We are a TEAM.  Each player leans on the other for the talent they can bring to make the team special.  Jealousy has no place within the team. Be a family of sorts. Third, "Find a way" – my team relied on that last year.  Even if the team is not the most talented team, you must find a way to be successful. Sometimes the ball does not go through the hoop, so maybe you pick up your defense and locked the opponent down.  One example of finding a way.  Coach does not want his team to be afraid to fail.  The game sometimes is not forgiving and can be very tough.
Lloyd comes to Woodward with his wife Christy.  They have been married for 29 years and have three kids, all grown, one daughter Macy, and two sons Luke and Kole.   Each one of his kids have contributed to Coach Vedders' successful career. In their spare time, Coach, and his wife love to travel and take road trips be it long or short.  They love spending time with their daughter, Macy, in Southern California.  His two sons live in Smyer and Lubbock respectively in west Texas. Coach is anxious to get settled here in Woodward and begin the process of helping the Boomers get back to their winning ways on the court.